History of Elliston Vineyards
What does the California Gold Rush have to do with Elliston Vineyards, located in the tiny California hamlet of Sunol?
In A nineteen-year-old "49'er," came to California in hopes of striking it rich during the Gold Rush.  After 4 years, Henry had "made good" and sailed back to his home state of Maine to marry is love, Elizabeth Capen.  Soon after in 1853, they set sail for San Francisco, a rough, unruly and lawless city.  They settled in, made a home, and raised six children.  One of their second oldest son Henry "Harry", married Jennie Coit Miller – Coit Tower in San Francisco is named after this Coit family.  Henry soon became a policeman for San Francisco.  Soon after moving to San Francisco, Henry became a policeman in San Francisco.  In 1875, Henry became the last elected Chief of Police in San Francisco, serving from 1875-1877.
In the 1870's Ellis took up residency on Lombard Street, known for its many turns.  Ellis St. in San Francisco was named to honor the family who had lived and served in San Francisco.  After his retirement, Henry served as the United States Consul to the Turk Islands in the East Indies.
Henry became a true Captain, during his around the world journey between December 1879 – May 1880.  They visited Hawaii, Australia, India, China, Suez Canal, the Mediterranean, and parts of Europe.
In 1885 Ellis, contemplating retirement, bought a lovely oak-studded property in the agricultural district of Sunol.  Here, between 1885 and 1890, he built Elliston, a stately 17-room, three-story, neo-Romanesque mansion featuring graceful stone arches and 32-inch-thick walls of blue sandstone quarried in nearby Niles Canyon. Carved in the stone near the roof, is Henry's personal monogram which includes his initials, HHE, a rope, and an anchor. Celebrities of the day visited Elliston, including Prince Kuhio and Princess Elizabeth of Hawaii during their round the world tour to visit Queen Victoria in 1898.
In 1890, Ellis planted three acres of vineyard on his Estate, and it is known that wine was produced here. This acreage was included when the Sunol Viticulture District was named in the 1898 report to the State Board of Viticulture to consist of 14 vineyards totaling 148.5 acres and total cooperage of 25,000 gallons.
Today Elliston is on the National Register of Historic places.
---
ELLISTON TODAY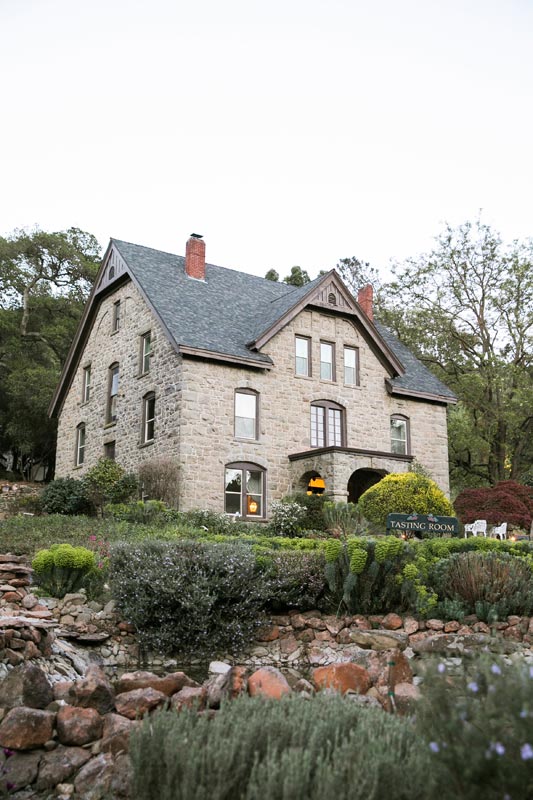 After changing owners throughout the years, the Elliston Estate was finally purchased by Ramon and Amy Awtrey in 1969. Professors and antique collectors, they carefully restored Elliston with period pieces, and refurbished the mansion to it's original glory.
In 1977, Sunol's grape growing tradition was revived by the planting of 55 acres of premium grape varietal's on San Francisco Water Company land. In 1984, the Awtrey's obtained rights to the Sunol Valley Vineyards, and also replanted the Elliston vineyards at the estate with three acres of Chardonnay. The original carriage house was converted into the winery.
The Awtrey's lived in the Elliston Mansion, and in 1982, they began hosting special events and weddings at Elliston.
In 1991, Elliston purchased a twenty-three acre winery in the Santa Cruz Mountains complete with a state-of-the-art 4,000 square foot building equipped to handle 20,000 cases.
Today Elliston Vineyards is a thriving winery and event space. The Awtrey's daughter Donna now runs the business with the help of her sons, Mark and David.
The original carriage house now serves as an elegant room for weddings and special events. The Elliston Mansion and property is open to visitors and wine tasting on the weekends.