Magical Disney Wedding Ideas
From princess medleys to singing birds, what better way to celebrate your happily ever after than with a Disney themed wedding ceremony? If you're as fascinated as we are when it comes to fairytale fantasies, then we've got a few inspirational Disney themes to share with you! Incorporating classic Disney details into elegant wedding decor can be easily done with whimsical drinks, dazzling centerpieces, and enchanting invitations. Here are some of our favorite magical wedding ideas that are sure to dazzle and mesmerize your guests.
Take a Trip Down the Rabbit Hole
Colorful decorations, whimsical elements, and lots of hearts – perfect for a wedding! To complete the Wonderland theme, try incorporating nostalgic elements of the story into classy, vintage decor such as floral tea sets, and vibrant centerpieces. A radiant color palette looks absolutely stunning in a white dress, especially in an outdoor ceremony.
A Day Under the Sea
Want a beach wedding without the sandy dresses and salty hair? From seashell macarons to watercolor invitations, these ideas will bring your childhood fantasy to life without the fear of your guests being washed away. For a ceremony reminiscent of the classic Disney movie without the salty waves, incorporate ocean-esque pastries such as these clamshell macarons into a shimmery tablescape. Complete the enchanting layout with mini urchin plant holders, gilded seastars, and peach roses.
Be Our Guest
Emma Watson's magical adaptation of a classic Disney motion picture definitely occupied our 2017 Pin-boards. There's just something about the Rose and Gold color scheme that encapsulates modern regality with romance. And what better way to share your romantic "tale as old as time" than with a Belle and the Beast theme? Nothing says "Be Our Guest" quite like these Navy and Gold themed invites. Unlike other classic Disney stories with youthful and animated characters, a Belle and the Beast theme allows you to bring every character to life without being cheesy. What could be more classy and opulent than having Lumiére grace your tablescape surrounded by rose petals? And of course, to complete the mesmerizing atmosphere, add an enchanted rose to your main table.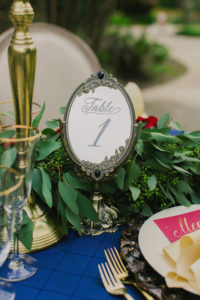 See more photos from our Beauty & The Beast shoot on Wedding Chicks!
A Dream is a Wish Your Heart Makes
Love at first sight, a dreamy color scheme, and a little bit of fairy tale magic makes the perfect inspiration for a Cinderella wedding. A few clocks, glass slippers, make the perfect accent pieces for this fairy tale wedding. Light blues with touches of gold, pastel pink and purple pull the whole look together. Go all out with that royal glamour!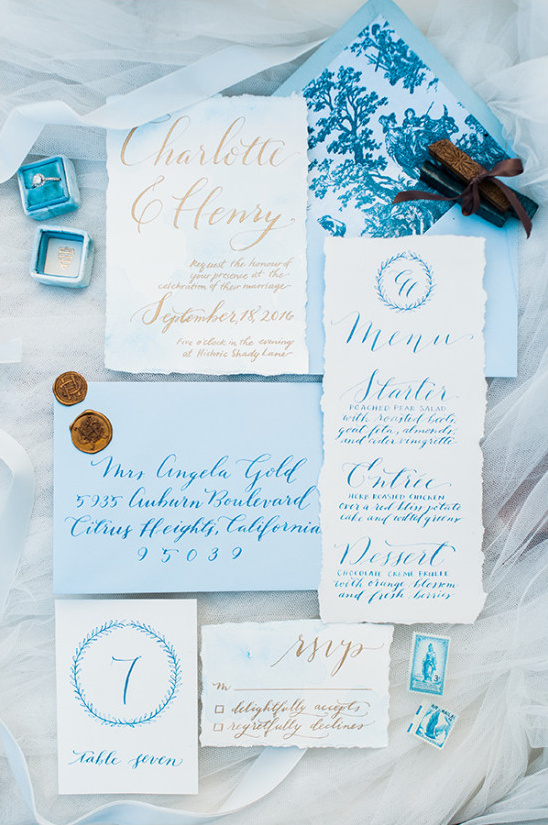 Whatever your wedding dream is, Elliston wishes you a Happily Ever After!