Our Favorite Pop Culture Wedding Dresses
Wedding dress shopping is one of the most exciting experiences for newly engaged women. With so many options, designers and designs, it can be overwhelming to know where to start, or what style to go with. Many women look to movies & TV shows for wedding inspiration. As expected, the glamour of television and film has captivated some of the most pinterest-worthy wedding gowns and themes, and we picked a few that are destined to be on our wedding vision boards.
Funny Face
We'll start with the most timeless icon of the silver screen, Audrey Hepburn. And no, we're not talking about Holly Golightly's notorious black dress (though definitely a statement piece for an avant-garde bride) but more so an era-defining gown from Audrey's character in Funny Face. Reminiscent of the popular cuts from the 50's, her dress features a vintage silhouette, minimal beading, and effortless charm. For a wedding ceremony with an old Hollywood glamour theme, decorate your reception with classic china, white roses, and cut glass. Maybe it's the Sepia filter or Audrey's graceful aura, but we are sold.
Disney's Enchanted
Extravagant and bold, Gisele's gown is what many would call "Extra AF," but we can't help but love it! Admittedly, the unpractical, mile-long tulle gown probably deserves a spot on TLC's Big Fat Gypsy Wedding more than anything, but we're definitely pinning this picture up to remind us of that childhood nostalgia. For a fairytale wedding ceremony, decorate your venue with crystals, pastel floral arrangements, and fairy lights.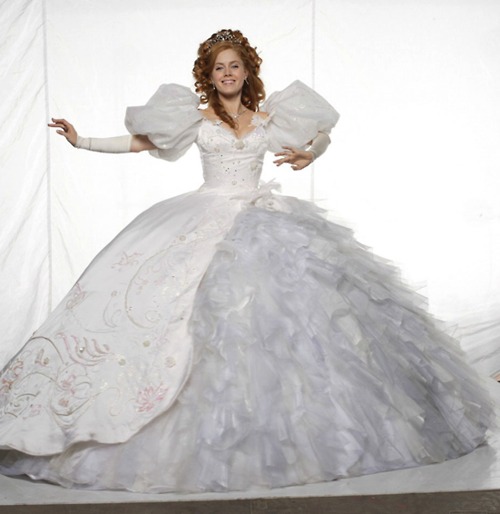 My Big Fat Gypsy Wedding
Speaking of My Big Fat Gypsy Wedding, we had to include some of reality TV's most memorable fashion icons. And who better than our favorite American Romanichal Gypsies? It was difficult to choose just one extreme gown, but we have to hand it to Maquayla's fresh flower dress. While most brides tend to choose between a flower crown and a traditional tiara, why not combine the two for twice the glamour? Breathtaking and Instagram-worthy, Maquayla's dress was one of the greatest and most disastrous creations on the show, as the designer, Sondra Celli, had to rebuild the entire dress in 24 hours after all the flowers died in transportation. For a rustic, country-style wedding, take a look at Elliston's Pinterest board for centerpiece inspiration, DIYs, and decor.
Black Mirror: "Nosedive"
The sharp satire of Netflix's top dystopian show, Black Mirror, is notorious for sparking social controversy and debates on media consumption, but episode 1 of season 3 seems to capture our attention for something else other than the fear of smartphones (but that too). The color palette for the entire episode was tastefully curated around cool tones and pastels-perfect for complimenting white hues (foreshadowing more aesthetic satisfaction!). So, one can just imagine our overbearing excitement during Naomi's wedding scene. Not only is her floral-beaded gown evident of romantic elements, but the entire color selection of the ceremony was breathtaking. From the layout of powder blue wisterias down to the bridesmaids dresses, Naomi's wedding can be recreated with cool-tone floral arches on Elliston's gazebos, blossoming hair pieces, and pastel bridesmaid dresses.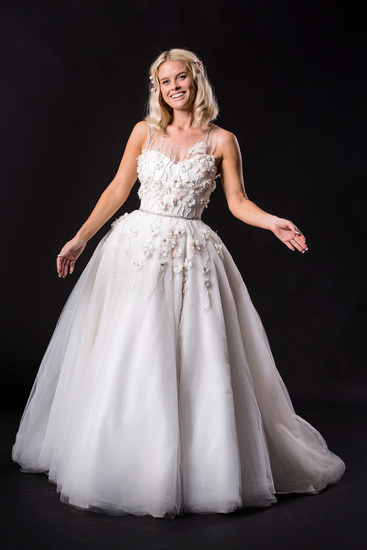 What is your favorite pop-culture wedding dress?