Pantone Wedding Colors Through the Years
For 50 years, Pantone has defined the language of color in fashion and pop culture. As one of the most influential color companies, it's no surprise why millions of film productions, runways, and advertisements are inspired by Pantone's annual color selection. From bright pinks to tranquil undertones, Pantone's Color of the Year releases continue to influence wedding color palettes. Here are the most recent chromatic arrangements that are sure to inspire and invigorate your wedding guests!
2018 – Ultra Violet
"Intriguing, fascinating, and magical. Ultra Violet's reign is here." – this is how Pantone announce their 2018 Color of the Year. And we have to say, we are LOVING this year's color. This color is so versatile, perfect for pops of color for a modern wedding, and at the same time it gives off a traditional vibe. Think royal weddings, and black tie affairs.
"[Ultra Violet] is a very provocative shade, but it's also a thoughtful color–it sounds like a bit of an oxymoron,"Lee Eiseman, executive director of the Pantone Color Institute, tells Co.Design. "This is the kind of color attached, historically, to originality, ingenuity, and visionary thinking. These are the elements we need to create a meaningful future. Inventiveness and imagination is something we seek in our personal lives and business worlds. People are looking for that 'magic bullet,' and this shade is the perfect shade to lead right into it . . . It's intriguing, fascinating, and magical." – FastCoDesign.com
We know one thing, we can't wait to see Ultra Violet inspired weddings!
2017 – Greenery
A breath of fresh air from the bold, vivacious hues of the past, Greenery is given the honor of 2017. Symbolic of new beginnings and nature's grace, this refreshingly soft green is perfect for a contemporary, woodland wedding ceremony. Like the name suggests, decorate with plenty of foliage! Neutral, green tones can be accented with blush florals and metallic details for a sophisticated yet effortless ensemble.
2016-Rose Quartz & Serenity
One of the most iconic Pantone color releases in history, Rose Quartz and Serenity demonstrated the peaceful harmonization of warm rose and cool blue. The divergence of undertones evoke gentle hues that remind us of a tranquil, yet romantic companionship. If utilizing Rose Quartz and Serenity adds too much contrast, opt for subtle floral arrangements that pay homage to the iconic duo. We love the idea of pairing rosy blooms with blue succulents!
2015 – Marsala
Take on the most bold trend of the decade by incorporating a grandiose, yet vivacious red into your theme. Unlike the rest of Pantone's yearly selections, Marsala captures the creative expression and earthy influences of 2015 with a touch of luxury. Reminiscent of a sangria cocktail, this dynamic color embodies opulence and sophistication. To bring out the the sultry undertones of this gorgeous color, add ornate gold details and ivory bases to your table-scapes. Another unique property to this color is the illusion of texture. From rippling linens to roses, the depth and richness of Marsala gives off almost a velvet texture. Pure romance!
2014 – Radiant Orchid
Captivating and mysteriously beautiful, Radiant Orchid is a color that ignites imagination and charisma. A cult-classic in high fashion, the interplay of royal purple and vibrant fuchsias produce a stunning glow against warm skin tones. From crystal chandeliers to cocktails, this vibrant violet is the ultimate form of royalty. Pair Radiant Orchid with white and olive accents to keep the ensemble classically glamorous.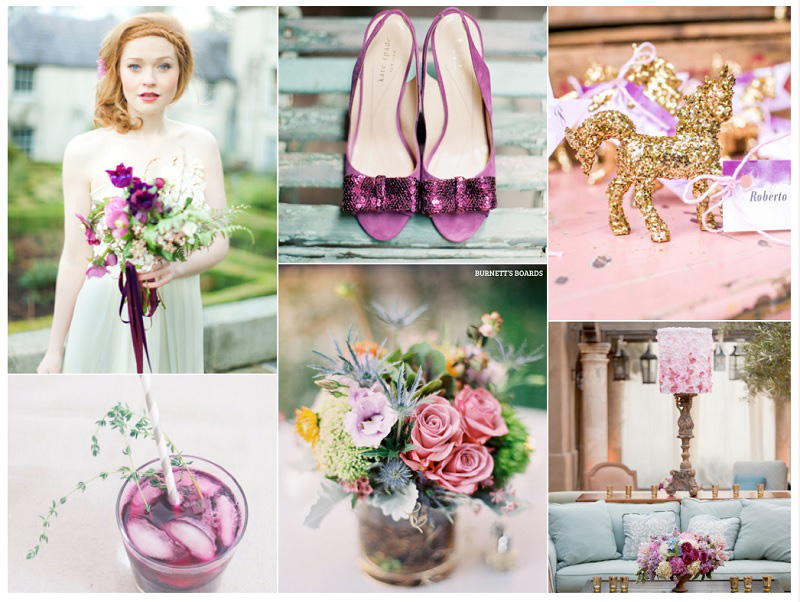 2013 – Emerald
Full of verve and vigor, Emerald is the color of beauty and elegance. This radiant jewel tone represents the balance and harmony in our lives. Unlike the soft, muted green of 2017, Emerald is a vibrant color that evokes brilliance and classic royalty. Perfect for the modern Grace Kelly, incorporate this playfully elegant shade of green into stunning wedding invites and centerpieces. For a bouquet worthy of the royal court, trade in light green flora for lush, radiant leaves. For a modern woodland aesthetic, you can even use deep green succulents as accents!