Winter Wedding Ideas!
Many couples do not think about hosting their wedding during the winter months. However, we at Elliston are here to say that there are so many benefits to having your special day during the winter months. Not only is there cooler weather, but it also the money you save by having your wedding in the off-season can go towards wedding décor or even towards your honeymoon!
We've put together a fun list of ideas to think about when planning your whimsical winter wedding…
---
Décor
There is something special about Elliston Vineyards during the winter months. Our Terrace Room is extra cozy and looks wonderful with a traditional winter color palate of darker greens, reds, silvers and whites. Our twinkle lights, Christmas tree, and natural greenery add the perfect touch.
Adding pinecones, cinnamon sticks, holly, or other winter greenery is a simple and inexpensive way to include a simple winter theme into your tablescapes and decor. Greenery looks fantastic in our Terrace Room.
Play up the winter theme with a powdered snow look on your decorations, just because it doesn't snow in California doesn't mean you can't have a white wedding!
Adding Bistro Lights is a perfect way to add that extra twinkle to our outdoor patio space, and it looks wonderful in person and in photos. Adding pillows to our built-in-bench as well as warm knitted blankets welcomes guests to sit outside and enjoy some quiet time. If it looks like a chilly night, we offer the option of including heat lamps to keep your guests toasty.
For stunning bistro lights we highly recommend Fantasy Sound and Pleasanton Rentals for their amazing customer service and fantastic lighting options!
---
Wedding Favors
If you are unsure how to incorporate the winter season into your winter wedding, an easy way to do this is through your wedding favors.
If you are having your wedding close to Christmas, a Christmas ornament with the guests name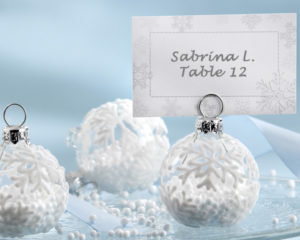 on it, not only is a favor, but also it doubles as a place card! It is also cute keepsake for your guests to remember your special day. We love these snowy ornaments, but consider doing a colored ornament to go with your wedding theme!
Giving out cute bags of hot chocolate or cookie mix as favors is a delicious treat for your guests to bring home.
---
Activities
It's always a great idea to have activities for guests during the wedding. If they don't feel like dancing, or want a break, it's nice to have something for them to do. We think it's best to take
advantage of the seasonal traditions, and what better way than a hot chocolate bar!
Rent a few hot beverage carafes, fill them with hot chocolate, or hot apple cider for your own hot chocolate bar! Don't forget to offer toppings like whipped cream, marshmallows, chocolate shavings, sprinkles, and cinnamon sticks.
To take your display to the next level, get some custom coffee cup sleeves with your name and wedding date! Find some HERE!
---