8 Things to Bring on Your Wedding Day
Were a big advocate of lists, and reminders to help couples stay organized for their wedding. One thing we often find is couple who forget to bring things the day of. This means that someone needs to run home to grab the bride's perfume, or go out and buy a change of shoes for the Mother of the Groom. So how do you avoid these mid-day mishaps? We think the best way is planning, planning and more planning. Before the wedding, put together a list of everything that you need to bring with you the day-of the wedding. This can be big things like the wedding dress and rings, or small things like your cufflinks. A couple days before the wedding, start packing up these items and check them off your packing list.
Inevitably there are still a few things that you may not think of to pack, so we have compiled a list of things to bring on your wedding day!
1 – A Nice Hanger
Imagine, seeing a photo of a gorgeous wedding dress hanging up int the bridal suite. Maybe the bride is standing there looking up at her dress, getting excited for the big day. Then you look up, and see that the gorgeous dress is hanging on a sad looking plastic hanger. It is a small detail, but one that can take your photo from ok, to stylized photo level. Invest in a cute wedding hanger like this or this, or this, or even a simple white wooden hanger from Ikea.
2 – A Change of Shoes
You want to be comfortable on your big day, and as most girls know – heels hurt! After your photos are finished have a comfy pair of flats or sandals on hand hand so you can comfortably dance the night away!
3 – Emergency Kit
Emergency kits are one of those things that your don't need until you REALLY need them, and they can be total life savers on your wedding day! There are plenty of blogs online that will give you ideas on what to bring like this one, this one, and this one, but we always recommend a few solid items for each emergency kit:
Aspirin, Tylenol, Tums, allergy medication
Band Aids
Floss and mints
Lint Roller
Small sewing kit
Tissues
Stain remover
Super Glue
Bobby pins and hair ties
Safety Pins
Q-tips and makeup remover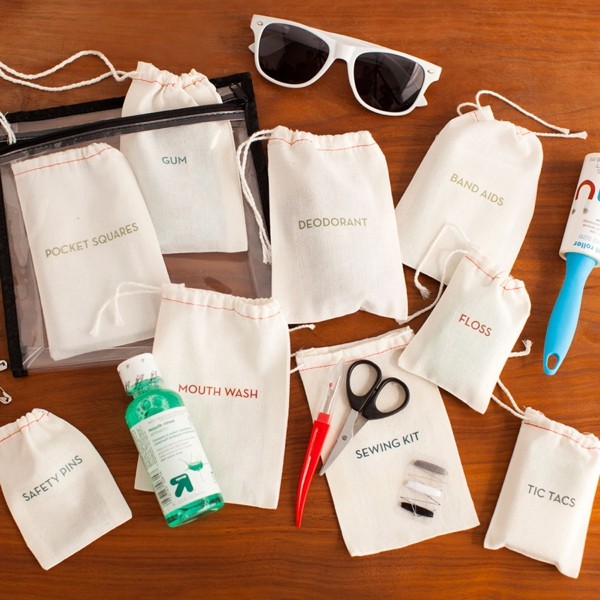 4 – Purses or Tote Bags
Unfortunately most wedding dresses don't come with pockets, so this leaves a lot of brides at the mercy of their bridal party to carry their things like phones, lipstick, wallets, etc. Bring along a cute tote bag or purse to keep all of your stuff together day-of. Your Maid of Honor or Mom can be in charge of making sure it is in a safe and easily accessible place for you.
Tote bags can double as a cute gift for your bridal party, and you can rent adorable wedding themed purses like this one off websites like Rent The Runway.
5 – A Change of Clothes
Some couples prefer to change before they leave the wedding, especially if the wedding dress is large or becomes uncomfortable after a long day. Take a cue from the royals and do a fun dress change for the end of the night.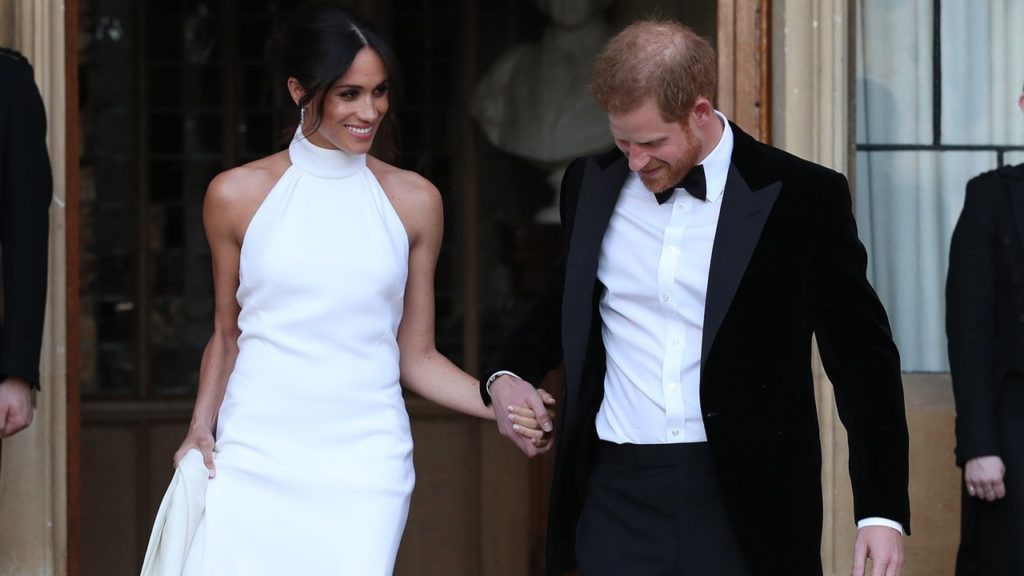 6 – Accessories
Make sure you have your entire outfit from head to toe. For the bride this means not only the dress but jewelry, veil, shape-ware, shoes, etc. For the groom make sure in addition to your suite or tux you have your socks, cufflinks, tie, pocket square, belt, etc.
7 – Cake Knife and Toasting Flutes
While these aren't totally necessary, these make a nice addition to the wedding, and can become beautiful heirlooms.
8 – The Marriage License
This seems like a no-brainer, but you'd be surprised by how many couple forget to bring this! Make sure your officiant or someone responsible is in charge of the license before and after the ceremony. Also important – make sure you schedule a time during the day to sign the license. Usually immediately after the ceremony is a good time, we do not recommend until waiting to sign it at the end of the night!