Wedding DIY Inspiration
Designing the aesthetics of your wedding is often one of the most enjoyable parts of your wedding! While stressful at times, bringing your dream wedding to life can be made fun by DIYing some of your venue decor. Though, there are some DIY projects we would strongly avoid, such as your dress or cake, these projects are easy and look absolutely gorgeous! We've compiled a list of a few fun and easy DIY projects, perfect for any wedding!
Pro Tip: Before you DIY, ask yourself these questions:
Do I have time? – If you're planning a wedding in less than 6 months, try not to take on very time consuming projects.
Will it save me money? DIY doesn't always mean cheap. Purchasing supplies can add up, so if saving money is your game, crunch the numbers to make sure the extra work is worth it.
Test before committing! We've heard many stories from brides who have purchased all of the supplies to make their invites/place settings/favors/etc. only to realize that the project they've taken on is to time consuming, difficult, or expensive than they imagined. Try making a few test items before committing to the project.
Floral Hula Hoop Wreaths
Looking for a pretty backdrop for an outdoor reception or a dessert table? Then a floral balloon wreath might just be the right thing for you! Paying homage to the hanging jar vases, these hula-hoop wreaths add an elegant and airy touch to any wedding venue; just spray paint a regular plastic hula-hoop with a base color that matches your palette. Gold, for example, is a whimsical yet practical color that matches most themes. Next, take a few mini balloons and faux flowers to decorate the hoop. For the center, you can attach photos, cutout calligraphy, or balloons. After the wedding, you can even incorporate the wreath into your home decor or a child's room!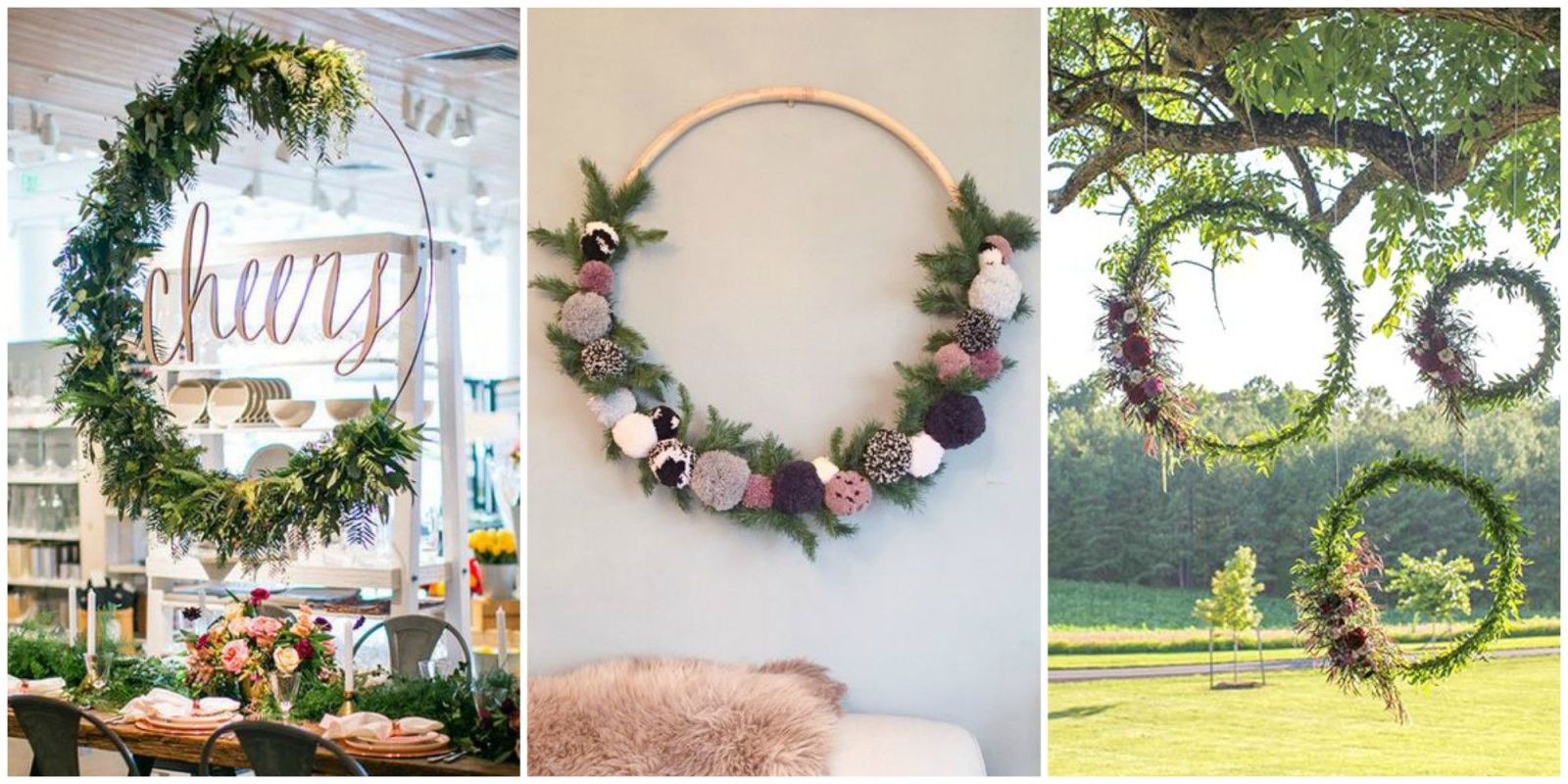 Signs and Frames
Signage and cute frames not only look cute, but provide valuable information for your guests. Sings can tell your guests where to go, what to do, hashtag info, and more! Chalk boards have refined supreme for the last few years, but more modern touches like mirrors and acrylic are growing in popularity too! Check out store like Ikea and Home Goods for affordable chalkboards and mirrors, and head over to your local Home Depot for some custom cut acrylic. Grab a chalk pen, and let the creativity flow!
Brooch Wedding Bouquet
Looking for something different than the normal floral bouquet? Nothing is more unique and stunning than a custom brooch bouquet. Head over to your local thrift store or flea market and spend an afternoon treasure hunting for some gorgeous pieces for your one-of-a-kind bouquet.
Wedding Favors
If you choose to do favors, guests love favors with personal touches. If you have time, or if you have a smaller guest count, DIY favors are the perfect project. They are a labor of love from the couple, and are personal for each guest. Now the easiest and most popular DIY favors are edible favors (think jam jars, lemoncello, cookies, etc.), but there are so many fun options to explore! Try thinking of something that relates to you and your SO for a favor that is truly "you".